OVEN-BAKED TRADITION FOOD FOR LARGE BREED ADULT DOGS – FISH OVEN BAKED TRADITION DOG FOOD
Spend

$50.00

to

FREE SHIPPING
Money Back Guarantee, if your Dog doesn't Likes it!
Free Local Delivery, no code needed just head for checkout
Our adult dog food for large breed is slowly cooked at low temperature in the oven.


Our large breed adult dog food recipes are made in small portions to ensure freshness and quality.


We incorporate whole grains here on site for more freshness and to make sure we include all the essential elements.

Our kibbles contain less air than extruded kibbles. Therefore, you can give less food to your pet in order to get them full.

 
Glucosamine and chondroitin Glucosamine and chondroitin contributing to the hydration of the cartilage to protect the jointsInulin Inulin (chicory root), a prebiotic, to ensure optimal intestinal function.

Omega-3 & omega-6 fatty acids to promote supple skin, as well as a shiny, silky coat.

Taurine Contains taurine to help maintain a healthy heart and good vision.

Excellent source of proteins and omega-3. Ideal for dogs with a sensitive stomach.
Fish (25.0% fresh fish, 17.0% dehydrated fish), barley, oat, canola oil, flaxseed, dehulled barley, brown rice, sweet potatoes, sea salt, inulin, chondroitin sulfate, glucosamine hydrochloride, spinach, apples, bananas, blueberries, broccoli, cranberries, algae, Yucca schidigera extract, rosemary extract. May contain traces of peanuts.

Additives per kg (nutritional additives): Vitamins: Vitamin A (retinyl acetate) 5 000 IU, vitamin D3 (cholecalciferol) 500 IU, vitamin E 100 mg, taurine 1 000 mg. Trace elements: Iron (as iron (II) chelate of amino acids hydrate) 79.2 mg, zinc (as zinc chelate of amino acids hydrate) 90 mg, manganese (as manganese chelate of amino acids hydrate) 6.48 mg, copper (as copper (II) chelate of amino acids hydrate) 11.16 mg, selenium (as sodium selenite) 0.0032 mg, iodine (as calcium iodate anhydrous) 0.896 mg. Technological additives: Antioxidants, citric acid.
Crude protein
min 25.0 %
Crude fat
min 14.0 %
Crude fiber
max 5.0 %
Moisture
max 10.0 %
Calcium
min 0.85 %
Phosphorus
min 0.5 %
Potassium
min 0.65 %
Sodium
min 0.3 %
Omega-6* fatty acids
min 3.0 %
Omega-3* fatty acids
min 2.5 %
Glucosamine*
min 930 mg/kg
Chondroitin sulfate*
min 930 mg/kg
View full details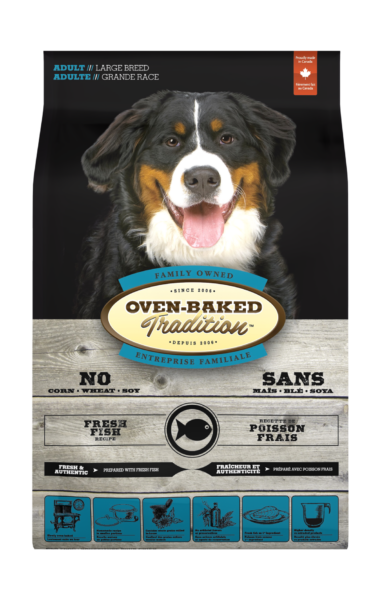 OVEN-BAKED TRADITION FOOD FOR LARGE BREED ADULT DOGS – FISH OVEN BAKED TRADITION DOG FOOD
Free Pet Nutrition Consultation
We at "Bright Eyes & Bushy Tails" have a team if certified Pet Nutritionists, who cam examine the Diet and eating habits of your Pet carefully and work on the Nutrition Plan for FREE.