ODOUR BUSTER™ ORIGINAL PREMIUM MULTI-CAT LITTER
Spend

$50.00

to

FREE SHIPPING
Free Local Delivery on orders above $49, no code needed. Just head for checkout.
Odour Buster™ Multi-Cat is a premium clumping cat litter made from responsibly-mined bentonite clay and our odour-eliminating ingredients. It is specially formulated for large cat families!

Odour Buster™ Multi-Cat creates extra-hard clumps quickly that are easy to scoop. Because the clumps don't break apart, the remaining litter stays clean and odour-free.

It's perfect for use in litter boxes that have lots of traffic!

WHY CHOOSE ODOUR BUSTER™ MULTI-CAT?

Odour Buster™ Multi-Cat is proudly made using quality ingredients that are safe for your cat, family and the environment. Our manufacturing process is carefully controlled to ensure that our litter is dedusted and completely coated with our odour eliminating ingredients for the comfort of your cat and your entire household.

Thanks to our odour eliminating formula, Odour Buster™ Multi-Cat keeps your cat's litter box foul-odour free for up to 30 days!
Instructions for use
Pour 8-10cm of Odour Buster™ Original a clean litter box.
Remove waste daily for best results.
Top up as needed with new litter to maintain the recommended depth.
Dispose of the entire contents monthly and wash the litter box with a mild soap and water.
Always dispose of litter in the household garbage. Never flush.
View full details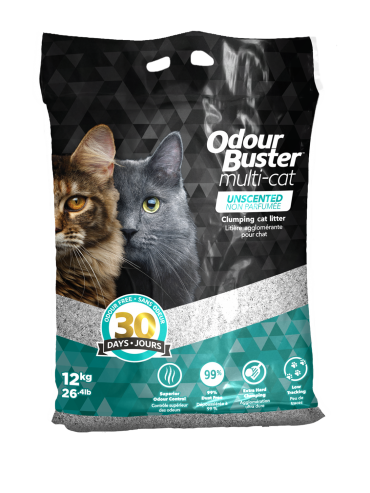 ODOUR BUSTER™ ORIGINAL PREMIUM MULTI-CAT LITTER
Free Pet Nutrition Consultation
We at "Bright Eyes & Bushy Tails" have a team if certified Pet Nutritionists, who cam examine the Diet and eating habits of your Pet carefully and work on the Nutrition Plan for FREE.