GRAIN-FREE FOOD FOR CATS OF ALL LIFESTYLE AND LIFE STAGE – CHICKEN OVEN BAKED TRADITION CAT FOOD
Spend

$50.00

to

FREE SHIPPING
Money Back Guarantee, if your Cat doesn't Likes it!
Free Local Delivery, no code needed just head for checkout
 

Cat food prepared with fresh chicken, fruit & vegetables

This food has been formulated for kittens, adults and senior cats (Indoor or outdoor). This recipe is grain-free.

96% of the proteins in this recipe for kitten and cat food comes from chicken, fish, eggs and legumes.

This recipe provides a lower glycemic index than our regular recipe.

Our cat food is slowly cooked at low temperature in the oven.

Our cat food recipes are made in small portions to ensure freshness and quality.

The first ingredient of this kitten and cat food recipe is fresh meat. It provides all the essential elements and is easier for your cat to digest.

Our kibbles contain less air than extruded kibbles. Therefore, you can give less food to your pet in order to get them full.
Pumpkin contains a natural source of antioxydants. It is rich in beta-carotene as well as important vitamins (A, C & E).Glucosamine and chondroitin contributing to the hydration of the cartilage to protect the joints.

Egg is a very nutritive food composed from high biological value protein (100%).Inulin (chicory root), a prebiotic, to ensure optimal intestinal function.

Contains green tea extract to help prevent dental plaque.

Fresh deboned chicken with a well-balanced amino acid content fostering the development of healthy body tissues.
Chicken (21.5% fresh chicken, 16.6% dehydrated chicken), dehydrated fish, lentils, chicken fat, fresh chicken liver, tapioca, potatoes, fresh fish, beet pulp, pumpkin, dried egg powder, inulin, algae, alfalfa, glucosamine hydrochloride, chondroitin sulfate, green tea extract, Yucca schidigera extract, spinach, apples, bananas, blueberries, broccoli, cranberries, sweet potatoes, rosemary extract. May contain traces of peanuts.

Additives per kg (nutritional additives): Vitamins: Vitamin A (retinyl acetate) 10 000 IU, vitamin D3 (cholecalciferol) 750 IU, vitamin E 100 mg, taurine 1 500 mg. Trace elements: Zinc (as zinc chelate of amino acids hydrate) 160 mg, manganese (as manganese chelate of amino acids hydrate) 80 mg, iron (as iron (II) sulphate monohydrate) 70.13 mg, zinc (as zinc sulphate monohydrate) 68.4 mg, copper (as copper (II) chelate of amino acids hydrate) 40 mg, copper (as copper (II) sulphate pentahydrate) 13.5 mg, manganese (as manganous sulphate monohydrate) 6.848 mg, iodine (as calcium iodate anhydrous) 1.664 mg, selenium (as sodium selenite) 0.0027 mg. Technological additives: Antioxidants, citric acid.
Crude protein
min 42.0 %
Crude fat
min 20.0 %
Crude fiber
max 3.5 %
Moisture
max 10.0 %
Calcium
min 1.3 %
Phosphorus
min 0.8 %
Magnesium
max 0.08 %
Potassium
min 0.6 %
Sodium
min 0.3 %
Omega-6* fatty acids
min 2.5 %
Omega-3* fatty acids
min 2.0 %
Glucosamine*
min 700 mg/kg
Chondroitin sulfate*
min 500 mg/kg
View full details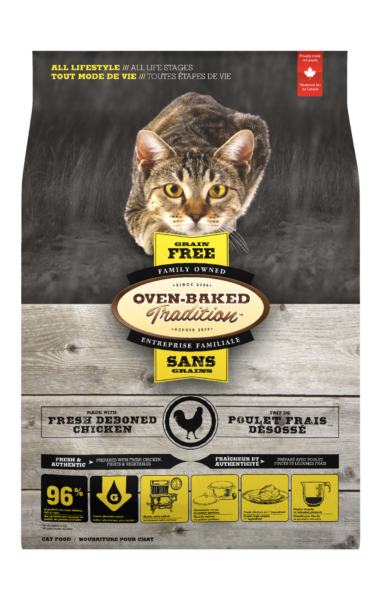 GRAIN-FREE FOOD FOR CATS OF ALL LIFESTYLE AND LIFE STAGE – CHICKEN OVEN BAKED TRADITION CAT FOOD
Free Pet Nutrition Consultation
We at "Bright Eyes & Bushy Tails" have a team if certified Pet Nutritionists, who cam examine the Diet and eating habits of your Pet carefully and work on the Nutrition Plan for FREE.