ACANA PRAIRIE POULTRY RECIPE DRY FOOD
Spend

$50.00

to

FREE SHIPPING
Money Back Guarantee, if your Dog doesn't Likes it!
Free Local Delivery, no code needed just head for checkout
ACANA® recipes are thoughtfully crafted from start to finish with delicious, quality ingredients. With a balanced 50/50 split between rich poultry ingredients and nutritious fruit, grains and vegetables, ACANA Classics Prairie Poultry recipe provides your dog with a filling and nutritious meal crafted from simple, wholesome ingredients. It also includes nutrient-rich ingredients that support three key health benefits, including immune function, healthy digestion, and healthy skin and coat. Feed your dog premium nutrition at a classic price with ACANA Classics Prairie Poultry recipe

Crafted with 50% premium animal ingredients

 

balanced with 50% wholesome grains, vegetables, fruit and nutrients.
Includes antioxidants from fruit & vegetables as well as vitamin C to help support immune function.
Includes prebiotics & fibre to help support healthy digestion.
Includes Omega-3 fatty acids from fish oil to help support healthy skin & coat.
Crafted in the Canada with the world's finest ingredients.
WholePrey Superfood Poultry, Organs & Cartilage - Providing Nutrients in Their Most Natural & Nourishing Form

Proudly Canadian Proudly made in Canada from the World's Finest Ingredients

Shiny Skin & Coat with Omega's Added

Craveable Flavour Infused with Freeze-Dried Liver for a Delicious Taste
Chicken meal (25%), oat groats (25%), fresh chicken (8%), fresh chicken giblets (liver, heart) (5%), raw turkey (4.5%), chicken fat (4%), whole red lentils, whole oats (4%), whole peas, whole green lentils, pea starch, fish oil (3%), alfalfa, lentil fibre, whole chickpeas, raw turkey liver (0.5%), salt, dried kelp, fresh whole pumpkin, fresh whole butternut squash, fresh whole carrots, fresh whole apples, fresh whole pears, fresh whole zucchini, dried chicory root, fresh kale, fresh spinach, fresh turnip greens, fresh beet greens, whole cranberries, whole blueberries, whole saskatoon berries, turmeric, milk thistle, burdock root, lavender, marshmallow root, rosehips

ADDITIVES (per kg): Technological additives: 1b306(i) Tocopherol extract from vegetable oils: 121mg, E330 citric acid: 40mg. Sensory additives: Rosemary extract: 80mg. Nutritional additives: 3a890 Choline chloride (choline): 700mg, 3b606 (Zinc: 150mg), 3b406 (Copper: 11mg), 3a821 Vitamin B1: 100mg, 3a825i Vitamin B2: 20mg, 3a314 Niacin: 200mg, 3a841 Calcium-D-Pantothenate: 60mg, 3a831 Vitamin B6: 35mg, 3a316 Folic acid: 7mg, Vitamin B12: 0.2mg, 3a672a Vitamin A: 3750 IU, 3a671 Vitamin D3: 500 IU, 3a700 Vitamin E: 385 IU, 3a300 Vitamin C: 0.15mg. Zootechnical additives: 4b1707 Enterococcus faecium DSM 10663/NCIMB 10415: 1 x 109 CFU.
Crude protein
29%
Fat content
17%
Crude ash
7.5%
Crude fibre
5%
Moisture
12%
Calcium
1.2%
Phosphorus
0.9%
Omega-6 fatty acids*
2.6%
Omega-3 fatty acids*
0.5%
DHA (docosahexaenoic acid)
0.1%
EPA (eicosapentaenoic acid)
0.1%
View full details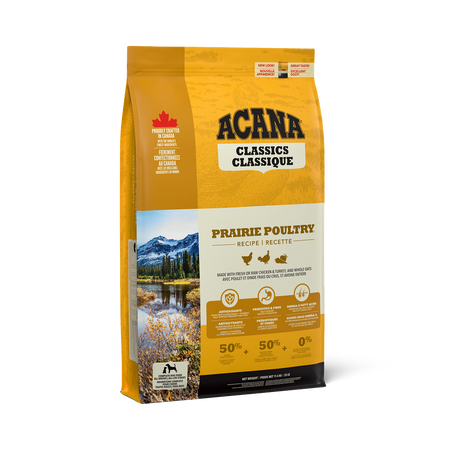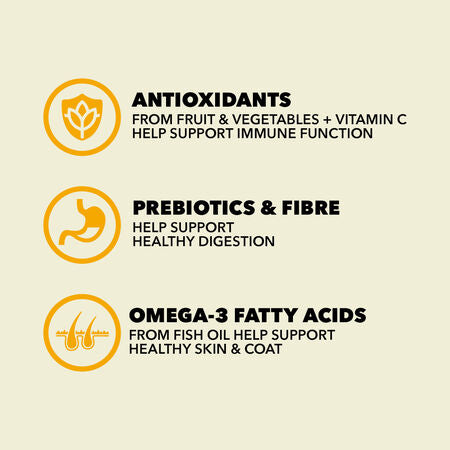 ACANA PRAIRIE POULTRY RECIPE DRY FOOD
Free Pet Nutrition Consultation
We at "Bright Eyes & Bushy Tails" have a team if certified Pet Nutritionists, who cam examine the Diet and eating habits of your Pet carefully and work on the Nutrition Plan for FREE.