CARNA4 EASY CHEW GOAT FORMULA DOG FOOD
Spend

$50.00

to

FREE SHIPPING
Money Back Guarantee, if your Dog doesn't Likes it!
Free Local Delivery, no code needed just head for checkout
Carna4 Easy-Chew Goat Dog Food variety is whole food nutrition for all life stages of your dog customized with a slightly softer, smaller nugget – perfect for the little mouths of puppies and small breeds, as well as older dogs that have trouble with chewing. Carna4's delicious air-dried nuggets are highly digestible and so densely packed with whole foods that you may need to feed 10-15% less per day than you are used to. Goat formula is loaded with pastured New Zealand goat and goat liver. New Zealand has some of the cleanest agriculture in the world and is a BSE-free country. 

All Carna4 formulas are LOW GLYCEMIC and LOW GLUTEN – ideal for sensitive dogs. We use only 100% true food and you can easily pronounce the name of every ingredient in Carna4 because every one is grown only on Canadian, American, and New Zealand farms. No synthetics, no byproducts, no meals, no fillers, no protein concentrates, just REAL FOOD for your dog.
It includes amazing mix of certified organic sprouted seeds that have been germinated to unleash a POWERHOUSE of NUTRIENTS naturally, to support your dog's intestinal health, energy, skin and coat.

It is quick-baked & gently dry it to give your dog bio-available vitamins and minerals, without synthetic additives of any kind.

Zero by-product meals or artificial preservatives

No vitamin pre-mix needed nor added
Goat, goat liver, eggs, ground organic sprouted barley seed, herring, perch, salmon, sweet potato, ground fava beans, ground organic sprouted flaxseed, ground organic sprouted lentils, ground organic sprouted peas, potato starch, apples, carrots, sea salt, kelp, baking soda….Nothing Else.
Protein (Min.) 29%
Fat (Min.) 15%
Fibre (Max.) 4%
Moisture (Max.) 10%
Taurine 0.18%
Transitioning to Carna4: It will take several days for your dog to adjust to the richer nutrients in Carna4. Start by mixing one part Carna4 to four parts of your dog's old food. Gradually increase the proportion of Carna4 over 7-10 days until you are feeding all Carna4. Remember that you will feed slightly fewer cups of Carna4 than other dry foods.

Your dog may have larger stools in the early part of his or her transition period as the better quality fiber in Carna4 helps to clean out the colon. This is a normal and healthy effect and you will see the stools return to a normal size later in the transition. When transitioning to Carna4 from another diet, try sprinkling in some Flora4 ground sprouted seeds food topper to help aid digestion and normalize stools faster.

Feeding Your Puppy: Feed small quantities in 3 or 4 feedings at the same times each day, reducing to twice per day after 6 months. Divide the total cups per day from the chart above by the number of feedings to determine how much to set out each time. After 20 minutes, remove any food remaining in the puppy's bowl.

Pregnant or Nursing Dogs: Add up to 50% more food per day for pregnant dogs after the first 6 weeks. When nursing, the mother should be allowed to free feed throughout the day. She may eat 2 or 3 times as much as a normal adult during this time

Calorie Content: ME as fed Calculated – Easy-Chew Lamb Formula: 4,190 kcal/kg or 400 kcal/8 fl. oz. cup
Provide your dog with plenty of fresh, clean drinking water at all times.
Bring your dog to the veterinarian regularly.
Give your dog play and exercise every day.
View full details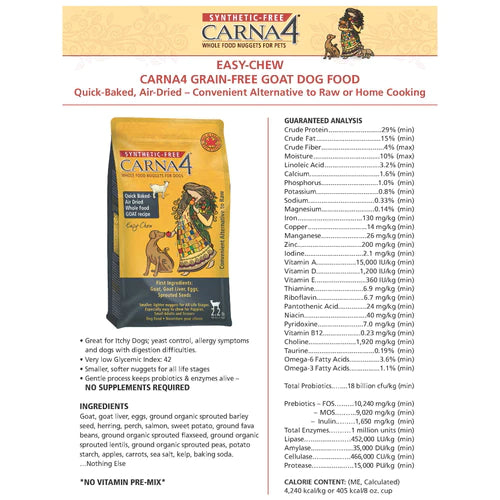 CARNA4 EASY CHEW GOAT FORMULA DOG FOOD
Free Pet Nutrition Consultation
We at "Bright Eyes & Bushy Tails" have a team if certified Pet Nutritionists, who cam examine the Diet and eating habits of your Pet carefully and work on the Nutrition Plan for FREE.