CARNA4 EASY CHEW CHICKEN FORMULA CAT FOOD
Spend

$50.00

to

FREE SHIPPING
Money Back Guarantee, if your Cat doesn't Likes it!
Free Local Delivery, no code needed just head for checkout
Completely synthetic-free (that means no pre-mix!) because our organic sprouted seed combination provides all the vitamins and minerals your cat needs for excellent health. The cats are loving the taste! Quick-baked for convenient, every-day-easy feeding of natural food for your cat.


Every Batch is Tested for 15 Different Pathogens and Toxins
100% Real

 

Food Nutrition
NO SYNTHETIC INGREDIENTS
Added Ground Organic Sprouted Seeds
Quick Baked Air Dried Whole Food Nuggets
Raw Food Alternative
Made in the Canada
It includes amazing mix of certified organic sprouted seeds that have been germinated to unleash a POWERHOUSE of NUTRIENTS naturally, to support your cat's intestinal health, energy, skin and coat.

It is quick-baked & gently dry it to give your cat bio-available vitamins and minerals, without synthetic additives of any kind.

Zero by-product meals or artificial preservatives

No vitamin pre-mix needed nor added
Chicken, chicken liver, eggs, organic sprouted barley seed, herring, ground fava beans, sweet potato, organic sprouted flaxseed, organic sprouted lentils, organic sprouted peas, potato starch, kelp, cranberry, sea salt, sunflower oil, nutritional yeast,
natural baking soda.
Crude Protein (min.) 40%
Crude Fat (min.) 17%
Crude Fibre (max) 4%
Moisture (max) 10%
Ash (max) 5.2%
Carbohydrates (Max) 24%
Linoleic Acid (Min.) 2.3%
Calcium (Min.) 1.3%
Potassium (Min.) 0.8%
Sodium (Min.) 0.31%
Iron (Min.) 129 mg/kg
Copper (Min.) 18 mg/kg
Zinc (Min.) 190 mg/kg
Vitamin A (Min.) 14,500 IU/kg
Vitamin C (Min.) 120 mg/kg
Vitamin D (Min.) 2,320 IU/kg
Vitamin E (Min.) 415 IU/kg
Vitamin B1 (Min.) 17 mg/kg
Vitamin B2 (Min.) 9.8 mg/kg
Vitamin B3 (Min.) 103 mg/kg
Vitamin B5 (Min.) 23 mg/kg
Vitamin B6 (Min.) 9.8 mg/kg
Vitamin B12 (Min.) 0.17 mg/kg
Vitamin K (Min.) 0.77 mg/kg
Folic Acid (Min.) 1.1 mg/kg
Choline (Min.) 2,700 mg/kg
DHA (Min.) 0.67%
EPA + DHA (Min.) 1.2%
Omega-6 Fatty Acids (Min.) 3.8%
Omega-3 Fatty Acids (Min.) 1.9%
Calorie Content: 4400 kcal/kg 407 kcal/cup
View full details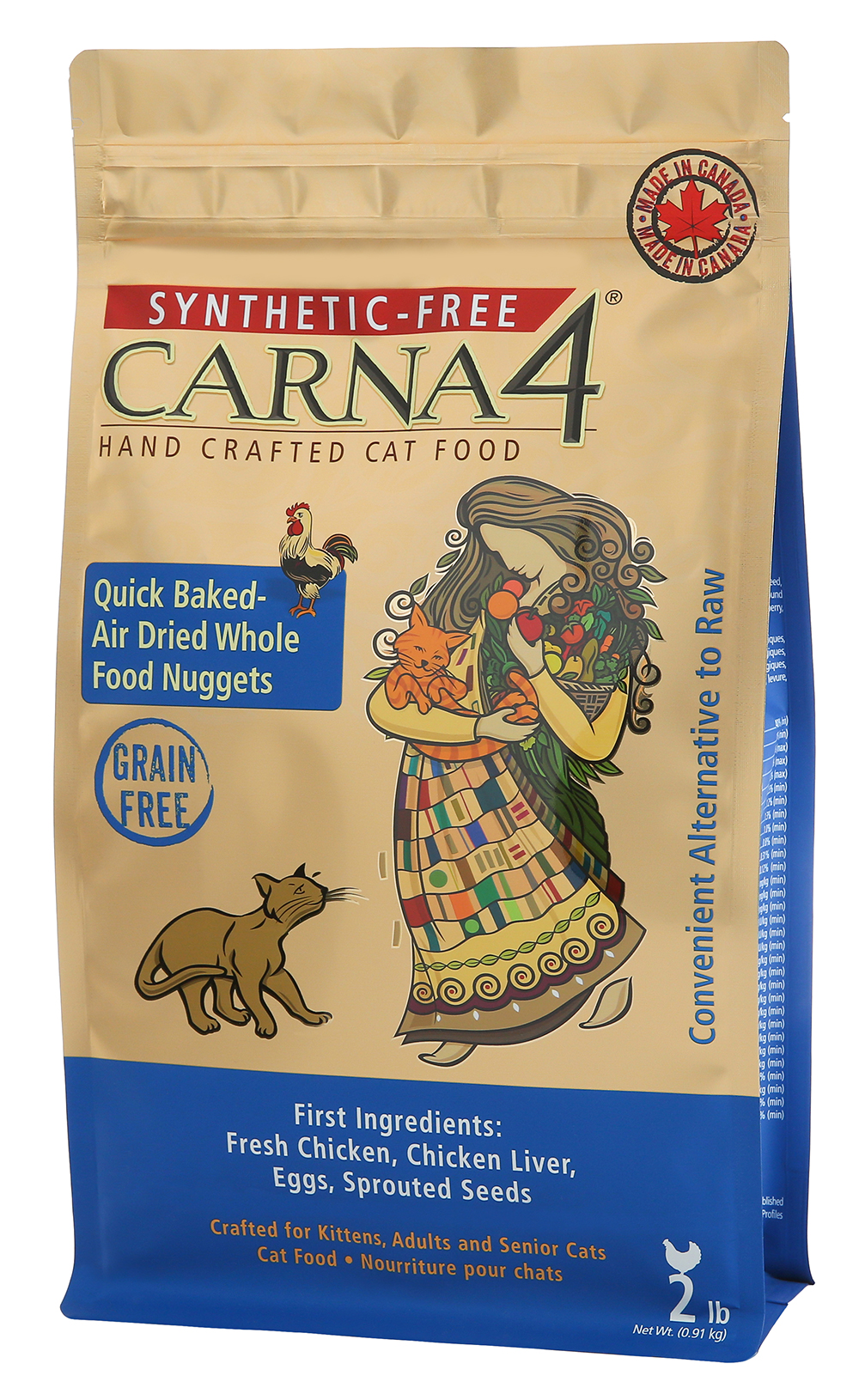 CARNA4 EASY CHEW CHICKEN FORMULA CAT FOOD
Free Pet Nutrition Consultation
We at "Bright Eyes & Bushy Tails" have a team if certified Pet Nutritionists, who cam examine the Diet and eating habits of your Pet carefully and work on the Nutrition Plan for FREE.